Orbital Shaker, 50-300rpm, Timer feature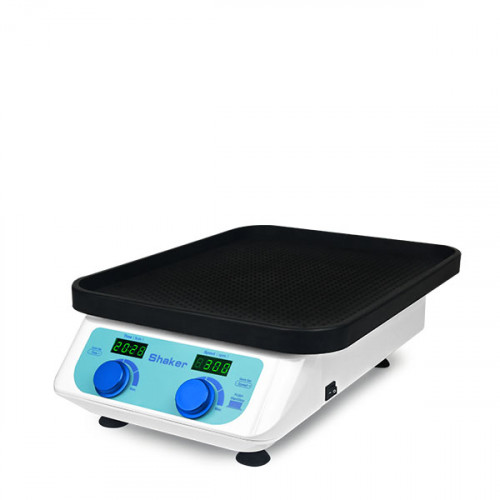 Orbital Shaker, 50-300rpm with timer feature is widely used in coommasie blue dyeing and swaying during decolorization, fixation of electrophoresis gel, fixation, dyeing and saliency in silver nitrate dyeing. It is also used in development and fixation of X-ray film in autoradiography experiments. It is also used in further processing of cellulose memebrane after electrophoretic transfer such as molecular hybridization, antigent-antibody reactions and staining.
---
Features
Compact with poweful function and strong compatibility.
Suction cup type machine feet, super shockproof, high speed and smooth with no noise.
Large platform design, placing more samples, strong load capacity.
---
Specifications
50-300 rpm speed
Time range: 1 min- 99 hr59 min
Digital time/speed display
10 mm radius of gyration
Maximum load capacity: 2.5 Kg
Motor: DC motor stepless speed regulation
Beep alarm: Yes
Platform size: 330 x 430 mm
Voltage: AC110/220V, 50-60 Hz
Power: 30W
Fuse: 250V, 1 A, ɸ 5 x 20
Dimension (W xD x H):330 x 490 x 145 mm
Net weight: 10 kg
---