High Throughput Sample Concentrator (96 samples)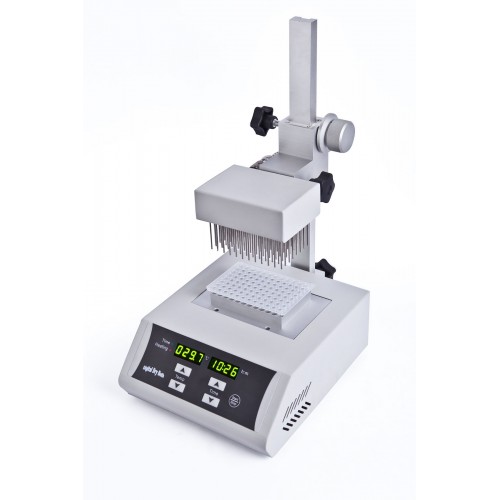 The nitrogen sample concentrator is used for concentrating or preparing samples in batches. It works by blowing nitrogen on the surface of the sample, which is being heated to accelerate evaporating and separating the solvent in the samples without oxygen. Instead of the rotary evaporation instrument, nitrogen sample concentrator can efficiently concentrate dozens of samples simultaneaously.
This is supplied with a BT1110-S a no hole block for 96 well plates heating block. The BT1110-R 96 x 0.2ml block is also compatible.
A gas flow control valve is also available for preceise control of gas flow.
Features
Heating with dry bath in the bottom, nitrogen blowing on the surface
Adjustable air cavity height
Gas needle controlled independently
Instrument can be put into ventilation cabinet when the concentration sample is toxic solvents
Built-in overheating protection, automatic fault detection and fault alarms
LED displays temperature and time
Specifications
Temperature range: Ambient +5°C-150°C
Temperature setting range:

5°C-150°C

Temperature Accuracy (40~100°C): ±0.5°C
Temperature Accuracy (100~150°C): ±1°C
Block Temp. Uniformity @

100°C: ±0.5°C

Block Temp. Uniformity @ 150°C:

±1°C

Temperature Display Accuracy: 0.1°C
Heating Time: ≤30min (from 40°C to 150°C)
Time Range: 1 min - 99h59min or continuous
Air Cavity Max. Lift Stroke: 275mm
Gas-in Joint Outer Diameter: ø7mm
Nitrogen Pressure:

≤0.1MPa

Nitrogen Flow Rate:0-10L/min
Needle Length: 80mm
Sample Capacity: 1 Standard Plate Block
Voltage: AC110V, 50/60 Hz
Power: 400W
Fuse: 250V, 3A/6A, ø5x20
Dimensions (WxDxH): 220 x 260 x 445 (mm)
Net Weight: 5.5 kgs
---
Download Manual