Blue Light Transilluminator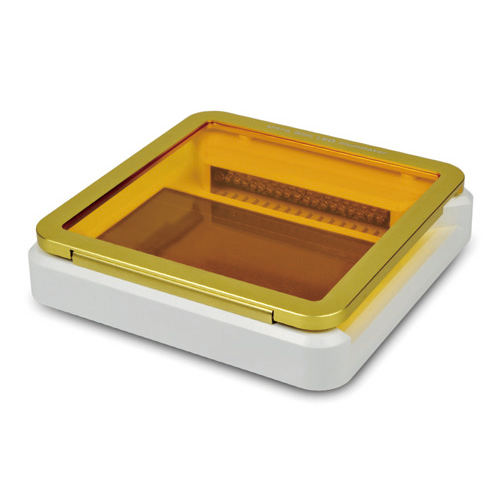 The Blue Light Transilluminator is used for the observation of gel electrophoresis. It uses LED light to observe or shoot various dyes. LED light is a harmless bright light. The blue light transilluminator has a long service life and is portable.
Features
Blue light prevents UV damage. It also does not damage DNA fragments
The LED light is bright with a long service life. It is suitable for observation of a large range of flourochrome. It has high sensitivity and good homogeneity.
It can be used as a blue light platform and also used to match up as a multi-imager.
Uniform blue-ray transillumination. Low background values.
Screen plate can be randomly fixed. The angle is adjustable. It can be operated with one hand making it easier to watch the gel.
Compared with the traditional UV transmission instrument, the Blue Light Transilluminator makes sample observation more symmetrical and photo's effect better.
LED light has long-term energy conservation and is eco-friendly. No need to replace bulbs. It is maintenance free and has a long service life which can reach 100,000 hours
Perfect observation with full size transparent optical filter. Safe operation, no need to wear safety glasses or other protection devices.
---
Specifications:
Wavelength: 470nm
Max gel size: 100 x 150mm
Voltage: DC24V Power Adapter
Dimension (WxDxH): 210 x 210 x 30mm
Weight: 1.4kgs
---
​​Download Manual