Digital Magnetic Stirrer, 200-1600rpm, Timer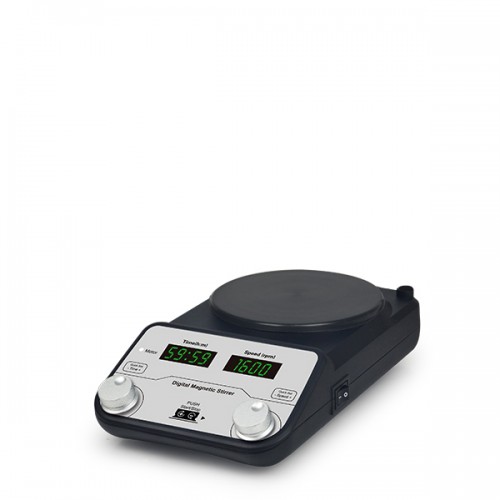 BT1022 Digital Magnetic Stirrer, 200-1600rpm, Timer is equipped with magnetic stirrer mixing technology and has a user-friendly design. This product is mainly used in the fields of medicine, bioengineering, chemistry, medicine, food, and other research fields. It is a routine instrument necessary for the biological laboratory to stir and mix various reagents, solutions and chemical substances.
Features
The stirrer can stir 50ml-20L standard or non-standard reaction bottles.
The stirrer is equipped with silicone pad on the working surface and the shell is made of metal. The stirrer has high strength, high temperature and corrosion resistance.
Exquisite and compact design of the whole instrument with digital display speed and time
30° slope control panel for seated and standing point of view
High magnetic flux design, strong mixing ability, adopt no motor drive mode, low noise.
---
Specifications
Diameter of Heating Plate: Φ137mm
Heating Plate Material: Silicone pad
Speed Range: 200-1600rpm
Timing range: 1min-99h59min. 0 means infinite length
Number of stir point: 1
Max. Stir Capacity (H2O): 20L
Motor type: DC Brushless Motor
Voltage: 220V
Frequency: 50/60 Hz
Power Input: 20W
Fuse:250V, 1A, Ф5x20
Dimension (W x D x H): W.160×D.270×H.70mm
Net weight(kg): 1.88kgs
---
Download protocol