Mini 500 Power Supply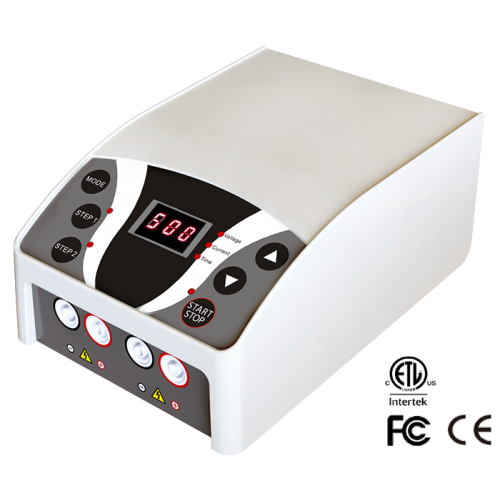 The Mini 500 power supply is capable of providing constant voltage (<500V) or constant current (<400mA) in 1V or 1mA steps. The unit is perfectly suited to run both vertical polyacrylamide or horizontal agarose gel electrophoresis experiments.

Continuous or timed operations are easily performed using the simple and user-friendly interface. The Mini 500 power supply features 2 electrode pairs, allowing for 2 gels to be run simultaneously, saving both time and valuable bench space. With a universal voltage rating, the Mini 500 power supply is also designed and constructed to the most rigorous safety standards.
---
FEATURES
​Constant voltage or constant current operation
1V step voltage selection; 1mA step current selection
400mA maximum current
60W maximum power
Two pairs of outlet terminals
Timer with alarm function
Safety device
Compact size and lightweight
---
TECHNICAL
Output Voltage / Increment: 10 - 500V / 1V
Output Current / Increment: 10 - 400mA / 1mA
Output Power: 120W
Output Type: Constant voltage or constant current
Control: Microprocessor controller
Terminal Pairs: 2 Pairs
Timer: 1~999 minutes with alarm, continuous
Safety Device: No load detection; shrouded plugs and sockets
Operation Temperature: 4-40°C
Unit Dimension (W x L x H): 5.51" x 7.52" x 3.31" (140 x 191 x 84mm)
Construction Material: Polycarbonate housing and aluminum base plates
Weight: 2.2 lb (1 kg)
Rated Voltage: 100 - 240V
---
Download Manual