Mini 300 Power Supply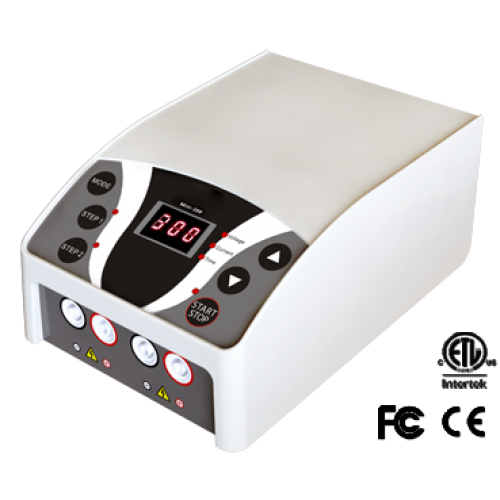 The Mini 300 power supply is capable of providing constant voltage or constant current in 1V or 1mA steps. The unit is perfectly suited to run both vertical polyacrylamide or horizontal agarose gel electrophoresis experiments.

Continuous or timed operation are easily performed using the simple and user-friendly interface. The Mini 300 power supply features 2 electrode pairs, allowing for 2 gels to be run simultaneously, saving both time and valuable bench space. With a universal voltage rating, the Mini 300 power supply is also designed and constructed to the most rigorous safety standards.
---
FEATURES
​Constant voltage or constant current operation
1V step voltage selection; 1mA step current selection
400mA maximum current
60W maximum power
Two pairs of outlet terminals
Timer with alarm function
Safety device
Compact size and lightweight
---
TECHNICAL
Output Voltage / Increment: 10 - 300V / 1V
Output Current / Increment: 10 - 400mA / 1mA
Output Power: 60W
Output Type: Constant voltage or constant current
Control: Microprocessor controller
Terminal Pairs: 2 Pairs
Timer: 1~999 minutes with alarm, continuous
Safety Device: No load detection; shrouded plugs and sockets
Operation Temperature: Ambient to 40°C
Unit Dimension (W x L x H): 5.51" x 7.52" x 3.31" (140 x 191 x 84mm)
Construction Material: Polycarbonate housing and aluminum base plates
Weight: 2.2 lb (1 kg)
Rated Voltage: 100 - 240V
---
Download Manual