Horizontal Gel Electrophoresis Unit with Power Supply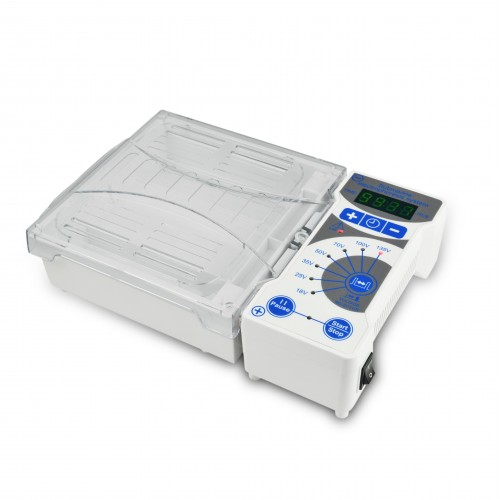 A self-contained, one body horizontal gel electrophoresis unit that consists of the gel box and power supply combined. The gel box accommodates various size gels (6x6, 12x6 and 12x12cm) and various comb sizes are available allowing for 2 to 25 wells. The combs produce wells suitable for use with a multi channel pipette. The gel box can hold up to 500ml running buffer.
The power supply has one key selection of preset voltages (18, 25, 35, 50, 70, 100 and 135V) and a timer feature (1-999 minutes or continuous). The power supply is automatically shut off if the lid is removed and has alarm features.
Supplied with all the accessories listed below
Features
Gel box and power supply in one unit
3 gel sizes (6x6, 12x6 and 12x12cm) & various combs
Gel box internal dimensions: 15 x 15 x 4.7cm
7 Preset Voltages to Choose from
Timer feature
Safety feature: No power when lid removed
100-240V Input
26 x 17 x 6.8cm
0.78kg weight
Accessories Supplied
| | |
| --- | --- |
| Cat. # | Description |
| BT109-A | Small Gel Tray (2) (60 x 60mm) |
| BT109-B | Medium Gel Tray (1) (120 x 60mm) |
| BT109-C | Large Gel Tray (1) (120 x 120mm |
| BT109-D | Gel Comb (4) (1mm thick with 25/11 teeth) |
| BT109-E | Gel Comb (1) (1.5mm thick with 8/18 teeth) |
| BT109-F | Gel Comb (1) (1.5mm thick with 13/6 teeth) |
| BT109-G | Gel Comb (1) (2mm thick with 3/2 teeth) |
| BT109-H | Gel Casting Base (138x138x36mm) |
---
Download Manual