Miniature High Speed Centrifuge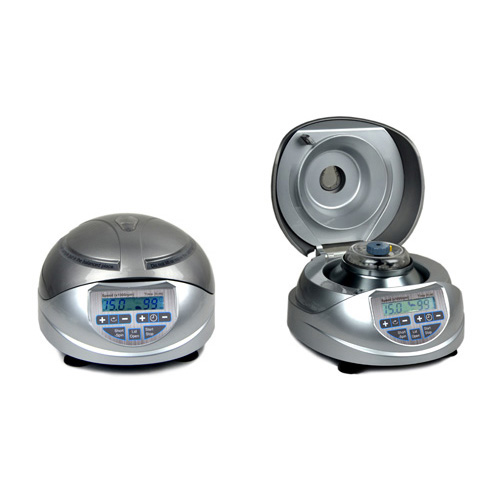 Miniature high speed centrifuge has compact design with high rotor speed and low noise. It has a streamlined small size with a variable frequency motor. It has excellent acceleration speed to reach target speed and to stop, saving time.
Features
Compact, small size saves space
Variable frequency motor has high speed with low noise.
Achieves max. speed 15,000rpm (15,000 xg) or stops from max. speed in 15 seconds
LCD displays speed and time
Rotor is made of aluminum alloy, chemical resistant and suitable for dry heat sterilization
Keys are easy to use and convenient
Excellent fluid/air exchange technology. The unique 3 air flues design lowers the rising temperature protecting temperature sensitive samples.
Self-locking function, cover can't be opened while operating. Pressing key will open the cover after operation. Safe and reliable.
Aluminum and plastic rotors. Aluminum rotor can bear heat sterilization. Plastic rotor has faster acceleration speed.
Specifications:
Speed range: 100-15,000rpm (increment: 100rpm)
Max, RCF: 15,000xg
Max. sample capacity: 2ml/1.5ml x 12
Time range: 20 sec-99min
Acceleration to max. speed: 15s
Deceleration to stop: 15s
Safety: self-lock, excess speed, over-heating status diagnosis system
Other functions: speed/RCF switch, touch operation, operating status display, alarm
Power: 105W
Fuse: 250V, 2A, ɸ5x20
Dimension (WxDxH): 220, 240, 145mm
Weight: 5.1kgs
Voltage: AC110V, 50/60Hz
---
Download Manual